Employment
There is an activity obligation in the department.
Primarily, there are offers of employment at a timber workshop and at a mechanical workshop, as well as a limited number of free time, school and self-study places.
In addition, you can be employed in the department's technical department, as a walker, in the laundry or in the kitchen.
Prisoners also have the opportunity to take a trade certificate as a chef.
In a collaboration between the prison, the chef and Jessheim upper secondary school, we offer training for a certificate as an institutional chef.
Kroksrud department has an approved training kitchen. This enables training for a trade certificate and taking a trade test. The kitchen manager in Ullersmo prison has the professional responsibility for the kitchen, and the training takes place in collaboration with Jessheim upper secondary school.
First Step Foods
Kroksrud has now in collaboration with Jessheim upper secondary school established a new project with a Food truck. This will be on the road for the sale of dishes outside the prison in connection with events, festivals, events, etc.
"First Step Foods" is registered as a regular company with an accounting obligation and shall be operated by inmates on normal commercial terms. This provides training for inmates in ordinary business operations, and will be useful after imprisonment.
At all stages of the process, the inmates must be responsible for choosing menus, purchasing ingredients, preparing the food and selling from the car. The inmates must also calculate sales prices as well as keep ordinary accounts and operation of the car.
Such a business constantly needs crews, and interested parties are encouraged to apply to Romerike prison, Kroksrud ward and this project.
It is desirable that you have experience / education in restaurant and food subjects, business, sales / advertising, or the like.
For the work in «First Step Foods», the motivated inmate with a trusting demeanor and a positive outlook on life is wanted. You must also have facilities for the efficient execution of necessary tasks at the company.
"First Step Foods" will give you a practical and useful experience on the way out into society.
If this is something for you, write an application to Romerike prison, Kroksrud ward if you want to be considered for transfer to Kroksrud ward and participation in the project.
If you have questions about the project, send an email to: kontakt@firststepfoods.no Tel: 63 94 36 92
The department also has its own dog group in collaboration with the Norwegian Armed Forces Dog School
On 01.06.09, a special "dog project" was established in Ullersmo prison, Kroksrud ward. The project is now established as a permanent offer and aims to give inmates a meaningful employment offer as involving a clear personal responsibility and the opportunity to train the ability to have care and empathy for the dog he is to be cared for. The Prison and Probation Service assumes responsibility for the forward task in accordance with a more detailed plan from the Armed Forces' dog school. The dogs will, after a period of 7-12 months, be returned to the Armed Forces' dog school for further training at the search section.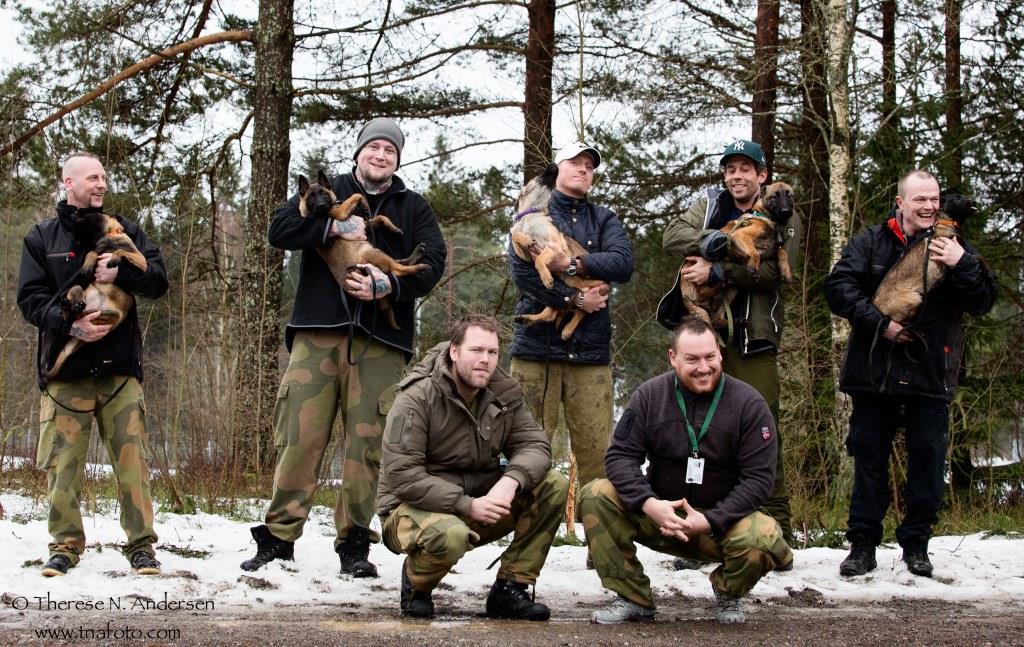 The kennel manager has the overall responsibility for the inmates performing the feeding tasks in a satisfactory manner and who ensures that the dogs have good conditions for growing up. The employee is also the contact person for the Armed Forces' dog school and is responsible for continuous reporting on status and progression.
The dog group's goal means that special requirements are set for you who want to be employed in the kennel during the execution of the sentence. In addition to fulfilling the general conditions for a transfer to prison with a lower level of security pursuant to the Execution of Sentences Act § 15 et seq., It is assumed that you as a male prisoner:
a) is not registered with pending criminal cases,
b) that you have a minimum of 7 - 12 months remaining execution time, until expected release,
c) that you are not or have not been convicted of circumstances that give reason to doubt the ability to take care of and responsibility for animals,
d) that you have generally good knowledge of the Norwegian language, both in writing and orally and
e) that you have a generally good sense of order, that you are conscientious, that you appear responsible and that you are understood to have the ability to care for animals.
You must finally understand that employment in "Hundekennel" entails an obligation to be placed in Ullersmo prison, Kroksrud ward until the foster care task is completed. The assignment also presupposes that you are willing to work beyond ordinary working hours, ie up to seven days a week.